Research Team
The Department of Central Research and Innovation is led by the Dean Faculty of Allied Science & Director Research, SVDU and supported by the Deputy Director Research and Research Scientists for the smooth functioning of the Department.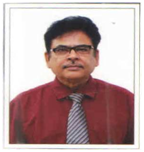 Dr. A. K. Seth
Director- Central Research & Innovation Centre
E-mail: director.research@sumandeepvidyapeethdu.edu.in
Phone: +91 9824466105
Dr. A. K. Seth is presently working as Head, Department of Pharmacy, Sumandeep Vidyapeeth, Piparia, Vadodara. He obtained his Bachelor's and Master's Degree from Dr. Sir Harisingh Gour Vishwavidyalaya, Sagar (M.P.) and Doctoral Degree from the M. S. University, Vadodara (Gujarat). He has over 35 years of professional experience comprising of industry, teaching, administrative and research.
He is associated with many responsible positions both at University and National levels like; Dean Allied sciences and Member Academic council and Research director at Sumandeep Vidyapeeth. He is the chief Editor of Journal of Health Science, and official journal of Sumandeep Vidyapeeth.
He is associated with several universities and institutions in India as member of academic bodies and examiner at various levels. He is also inspector of Pharmacy council of India, New Delhi.
He has published more than hundred research papers in national and international peer reviewed journals. His h-index is 21 and i-10 is 45.
He is the author of seven books and one chapter of pharmacy field published by reputed publishers of India and abroad. He is a PhD guide and examiner to some reputed universities in India. He has ten candidates to his credit who have completed their PhD degree under his guidance. His main area of research is Novel drug Delivery systems. He has won many accolades at national and international levels. He is a recipient of NATIONAL ACHIEVEMENTS AWARD FOR EDUCATION LEADERSHIP in 2007 by IEDRA, New Delhi and "MOTHER TERESA EXCELLENCE AWARD, in 2011 by Integrated Council for Socio-Economic Progress, Kerala.
Prof. Dr. Niraj Pandit
Professor& Head,
Department of Community Medicine, SBKS MIRC,
Member, SVIEC, Sumandeep Vidyapeeth, Piparaia Vadodara India
E-mail: drniraj74@gmail.com, hod_psm@sumandeepvidyapeethdu.edu
Mobile: 9825371135
Presently working as Professor & Head in department of Community Medicine with Sumandeep Vidyapeeth, did postgraduate (MD)in Community Medicine (Preventive and Social Medicine) from B J Medical College Ahmedabad in 2001 and MBBS from Pramukh Swami Medical College, Karamsad in 1997.
As Professor& head, he is working as Academician, Researcher and leader of department. His passion is teaching subject Community Medicine to undergraduate students, post graduate students and PhD scholars. Community Medicine subject includes the epidemiology, biostatistics, sociology and health, occupational health, national health programme, demography and population science, management and administration principles. Along with this he is working as Member of Institutional Ethics Committee of university- Sumandeep Vidyapeeth. As this position closely working for quality research and research motivation and also conducting various research related capacity building workshops.
Publication and research are key areas of interest. He is also founder Managing Editor of university journal of Integrated Health Sciences (JIHS) which is running since 2013-2019. We developed special concept of EviGenCHIP for under graduate students. The aim of EviGenCHIP is to develop research culture among medical students since 2014.
Member of World Association of Medical editors, Indian Association of Medical Journal Editors, Indian Association of Preventive& Social Medicine, Indian Public Health Association and other
More than 50 publications are on his name in various national and international journals. He attended many conferences and presented papers.
Sociology and Health for Health Professionals – a textbook is written by him for physiotherapy, nursing, medical and medical social workers and publisher is Walters Kluwer (India) Pvt Ltd
New Approach to Social and Preventive Pharmacy – a textbook is written for BPharm student new syllabus recently and publisher is PV Books Pvt Ltd. Get details on https://pvbooks.in/product/new-approach-to-social-and-preventive-pharmacy-sem-viii-b-pharm/
Area of interest – Community based research, Ethics in research, quality evidence generating research, quality research publication, and epidemiology.
Dr. Akansha Budakoti
Junior Research Fellow
Central Research & Innovation Centre
E-mail: researchfellow@sumandeepvidyapeethdu.edu.in
Phone: +91 9927045754 / 9897511660
Dr. Akansha Budakoti is presently working as Junior Research Fellow & Senior Lecturer at Sumandeep Vidyapeeth, Piparia, Vadodara. She completed her Bachelor's Degree in Bachelor of Dental Surgery (BDS) from Himanchal Institute of Dental Science and Research, Paonta Sahib (H.P.) and Master's Degree in Master of Dental Surgery (MDS) in Oral Medicine Diagnosis & Radiology from ITS- Centre for Dental Studies and Research, Ghaziabad (U.P.)
She has more than 6 years of professional experience as an academician, private practitioner and researcher. She has a number of publications to her credit both National and International. She has also presented various scientific presentations (posters and original research). She is also awarded for the best paper and poster presentation in various national conferences.
She is the author and co-author of various books entitled as Lamin Dura –In Health and Disease, Oral Manifestation of Systemic Diseases and Advanced Imaging.
She is an active member of Indian Dental Association and registered in Dentist's Registration Tribunal as an Oral Radiologist in Uttrakhand.
She is associated with many work responsibilities at SVDU as to conduct research related development activities, to publish scientific work and its outcomes, to carry out other tasks related to the substantive activities of the projects in accordance with University strategy, policy and procedures and funder requirements.
She has a rich experience in managing patients with systemic disease and has done considerable amount of research in diagnosing using 2-D(OPG) & 3-D (CBCT) radiographic techniques and managing Temporomandibular joint dysfunction and various other oral lesions.
Dr. Priyanka Sharma
Senior Research Scientist
Department of Research & Innovation
E-mail: srresearchscientist@sumandeepvidyapeethdu.edu.in
Phone: +91 9899917717
Dr. Priyanka Sharma is presently working as Senior Research Scientist & Associate Professor, at Department of Research & Innovation, Sumandeep Vidyapeeth Deemed to be University, Vadodara. She completed her Bachelor's degree in Biomedical Sciences from University of Delhi, Delhi; Master's Degree in Biotechnology from H.N.B. Garhwal University, Srinagar, Uttarakhand; and Ph.D. in Biotechnology from Guru Gobind Singh Indraprastha University, Delhi.
She has more than 16 years of professional experience as a Supervisor, Faculty, Researcher/Scientist and Counselor for Research and Development in Academics. Besides, earlier being a faculty at State Engineering College, Haryana, she earned her post doctoral experience at National Bureau of Animal Genetic Resources (ICAR-NBAGR), Karnal, Haryana. She worked as a Scientist in Gujarat Biotechnology Research Centre (GBRC), Department of Science & Technology (DST), Government of Gujarat on various research projects of societal benefit. Later on, before joining SVDU, Vadodara, she was a Project Consultant in Sickle Cell Anemia Project, at Chhattisgarh Institute of Medical Sciences, Bilaspur, Chhattisgarh through CSIR – Centre for Cellular & Molecular Biology (CCMB), Hyderabad.
She is associated with many work responsibilities at SVDU, such as a Research